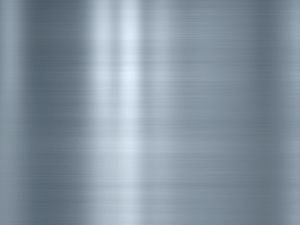 "

Anne Stott dazzles with pure seduction...""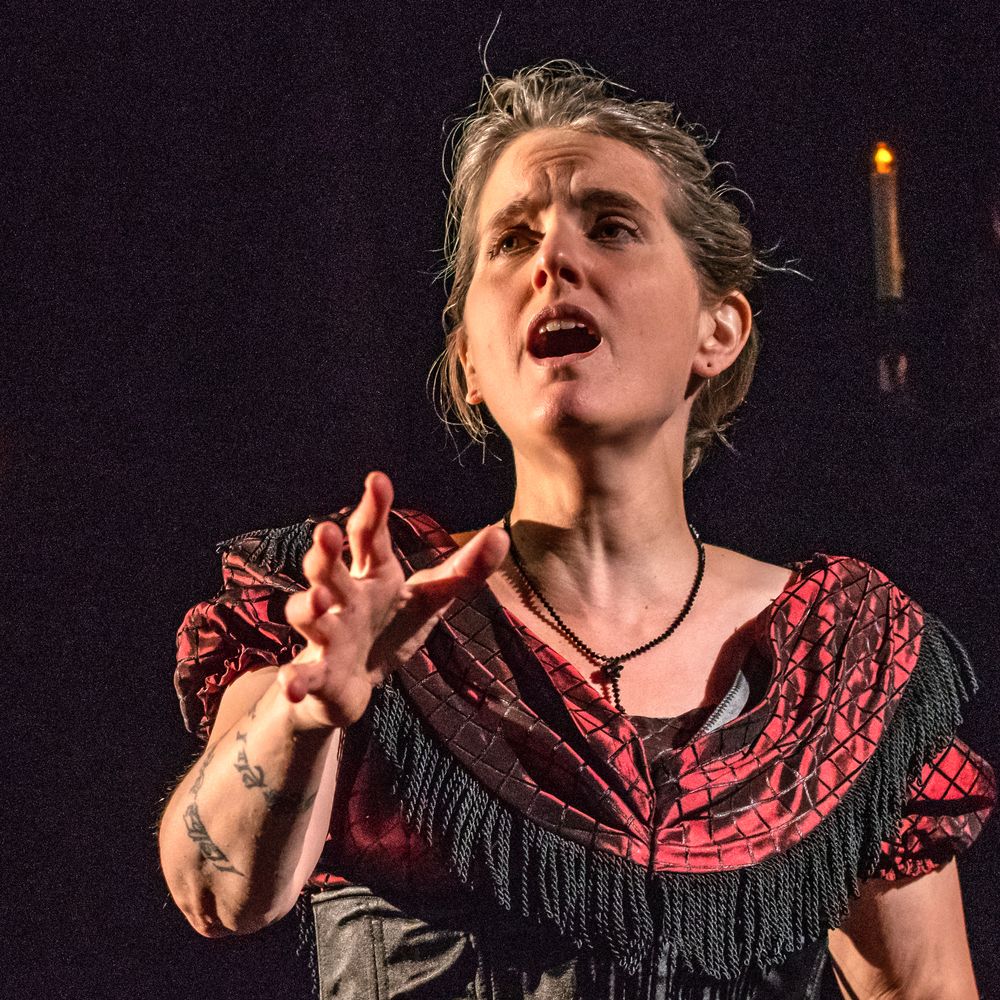 Anne grew up taking theater classes, acting in school plays and entered college as a theater major. Life took her in some wild other directions including political activism, massage therapy, CFO of a market research company and writing and singing songs. 
In 2008, while Anne was busking in front of Provincetown Town Hall, Obie-winning theater artist David Drake asked Anne, "Do you want to be in a play?"
With that question, David brought Anne's first love back into her life.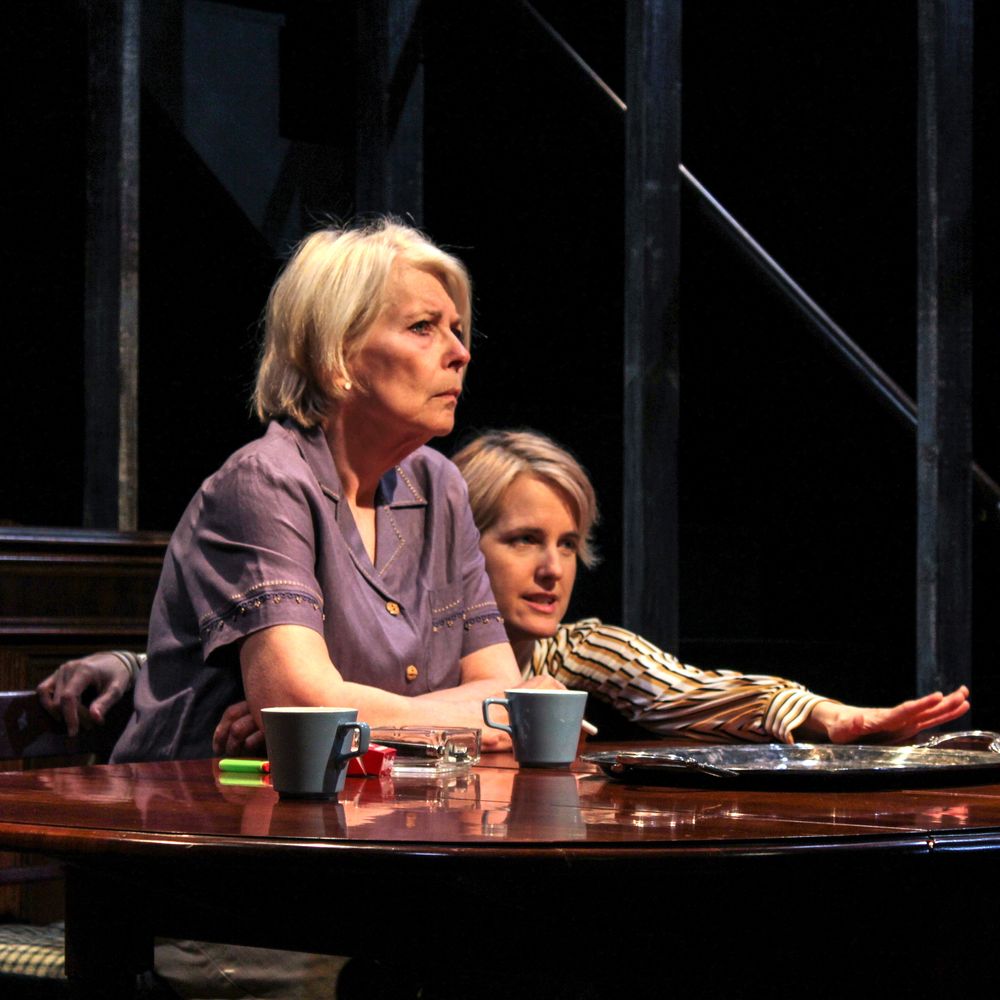 Since that moment, Anne has been privileged and thrilled to collaborate on many projects with David. Favorites include Clara in the world premiere of Sarah Schulman's The Lady Hamlet, Barbara in August: Osage County, Jack/Ernest in The Importance of Being Earnest and Mrs. Gibbs in Our Town.
Anne has appeared in theater productions all over Cape Cod and in short films and her own music videos. She has studied Shakespeare with Patsy Rodenburg, trained at The Barrow Group, and taken camera technique with Kyle Crand at CP Casting in Boston. 
Anne is member of SAG and EMC. 
resume
Theater
The Lady Hamlet, Clara
Provincetown Theater
David Drake dir.
It's a Wonderful LIfe: A Radio Play 
The Foley Artist
Provincetown Theater
David Drake dir.
August: Osage County
Barbara
Provincetown Theater
David Drake dir. 
Fun Home, Adult Alison
Falmouth Theatre Guild
Joan MacKenzie-Baird dir.
The Laramie Project
Multiple roles
Provincetown Theater
Leigh Fondakowski dir.
Elegies for Angels, Punks & Raging Queens, Multiple roles
Cotuit Center for the Arts
Katie Koglin dir.
Peter/Wendy, Mrs. Darling
Alpha NYC/Roebuck Theater
Bryna Raanan dir.
Nevermore, The Whore
Wellfleet Harbor Actors Theater 
Christopher Ostrom dir.
The Importance of Being Earnest
Jack/Ernest
Provincetown Theater
David Drake dir.
Our Town, Mrs. Gibbs
Provincetown Theater
David Drake dir.
Poor Superman, Kryla
Provincetown Art House
David Drake dir.
Film/TV/Web
Crookedfinger, Supporting, Jason Cortlund & Julia Halperin dir.
The Mothership, Stand In/Principal, Netflix, Matt Charman dir.
Don't Look Up, Background, Netflix, Adam McKay dir.
NH Democratic Debate
Elizabeth Warren stand-in
Disney/ABC News, Jeff Winn dir.
First Washing, Lead, Provincetown Prilgrim Monument & Museum, Fermin Rojas dir.
Yung Squire, Supporting
Short film, Jake Squire dir.
Hightown, Background
STARZ, Rachel Morrison dir.
First Annual TEDx Provincetown 
Presenter
Festival Season Announcement video, Voiceover
Ptown Tennessee Williams Theater Festival, Jef Hall-Flavin dir.
The Moonstone, Supporting
Short Film, Cara Casier dir.
Bottled Up, Lead
Short Film, Freeman Wood dir.
Never Washed: Scream Along with Billy 
Producer/Director
Provincetown TV Documentary
We Are Here, Writer/Producer/Star, Music video, Anne Stott & Ellen Rousseau dir.
Word on the Street
Host/Producer
Provincetown TV
Training
Patsy Rodenburg workshops:
The Classical Ensemble Workshop
Second Circle
Speaking Shakespeare
The Right to Speak
The Heightened Language of Shakespeare
Carolyn Pickman/Jan Egleston:
Actors Lab at BU
Kyle Crand/CP Casting:
Auditioning for Film/TV
Lee Brock/Seth Barrish:
Professional Acting Two Week Intensive
Sei Shiomi:
Stella Adler Workshop
Skills
Vocalist: Folk/rock soprano/mezzo soprano
Guitar: rhythm electric/acoustic
Piano: rusty classical/basic rhythm
French: semi-fluent/excellent accent
Yoga: experienced in many styles
Horseback riding: English/Western
Current driver's license/US passport
Statistics
SAG & EMC
Height: 5'6"
Weight: 131 lbs
Eyes: Blue/green
Hair: Platinum